Employer Services
Employer Services
Reach the Next Level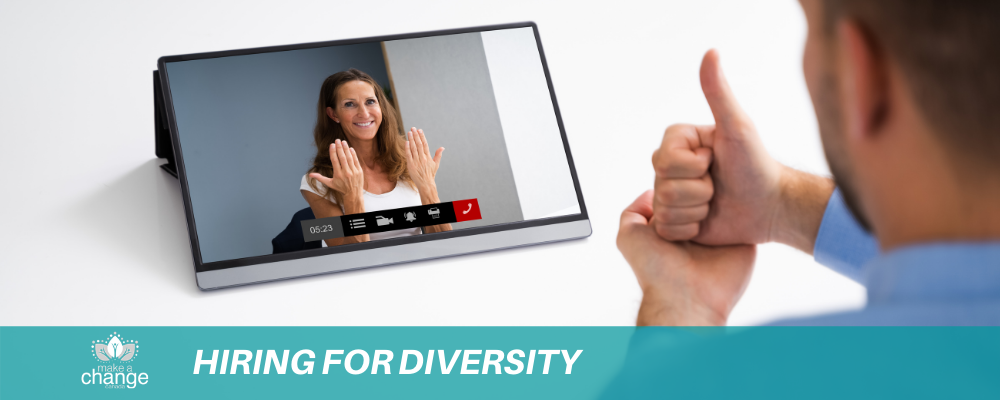 You've determined that including a commitment to diversity is not only a positive thing to do, but will enable your business to hire skilled employees you have not previously considered.
Through detailed interviews to determine your needs, a thorough review of your business technology capabilities, and the opportunity for financial assistance, our Tech Diversity Online program can work with you to access a talent pool of candidates to assist you in growing your business.
Please note: Financial support through our wage subsidy program is subject to funding availability and eligibility requirements. Each request is assessed on a case-by-case basis and is subject to final approval.
For further information on how we can help support you in building a diverse and inclusive workforce, please contact
Holly Penner, Workforce Opportunities Specialist, at 1-888-927-7473 Ext. 712 or by email at jobdev@anycareer.ca.
---
Join us for a virtual employer session:
WOW - Webinars On Work: Top Interviewing Techniques for Employers
With Tara Thom Burnett, Employment Specialist, Louise Doyle, Business Advisor, and Holly Penner, Workforce Opportunities Specialist
Tuesday, February 7 at 11:00 a.m. Pacific (2:00 p.m. Eastern)
Do you struggle with conducting a job competition and interviewing potential new employees? Does the whole process leave you more perplexed about which candidate to hire? The key purpose of conducting candidate interviews is to identify the top candidate, who is not only the most qualified for the job but will also be a great fit with your organizational culture. Knowing which questions to ask potential candidates can greatly improve your chances of success. In this new WOW session, Tara, Louise, and Holly will review the interviewing techniques most recommended by human resource specialists, the three types of interview questions and how to use them, as well as methods for implementing diversity and inclusion practices that will extend your overall talent market reach. You will also discover some unconventional interviewing methods that work surprisingly well in revealing your top candidates! Sign up today!
Information Forum: An Overview of Programs and Services for Individuals and Employers from Make A Change Canada
With Make A Change Canada Team Members
Thursday, February 23 at 11:00 a.m. Pacific (2:00 p.m. Eastern)
Now in our 18th year, Make A Change Canada is the pioneer in providing online and remote training and employment services to individuals and employers throughout Canada. Through our online programs, we provide career development support to individuals facing barriers to employment, including those who self-identify as living with a disability, Indigenous persons, people of colour, single and stay-at-home parents, and more. We are here with the support necessary to enter or re-enter the labour market through our employment, self-employment, and IT skills training programs. For employers looking to build inclusive teams, we also provide valuable training and support to you and your team to help build the success you need in these endeavours. As a national charitable and accredited organization, our goal is to help more individuals find the support they need to find or maintain meaningful employment, or advance in their careers. Whether you are a potential new client, a community partner, a business leader, or are just curious about who we are, please know that everyone is welcome to attend this session! Sign up to reserve your seat today!
WOW - Webinars On Work: Building a Great Team
With Melissa Hejja, Employment Specialist, Holly Penner, Workforce Opportunities Specialist, and JA Jonusas, Business Advisor
Tuesday, March 7 at 11:00 a.m. Pacific (2:00 p.m. Eastern)
Seasoned employers know that it isn't who is on your team, but how the employees on your team work together that is important. You will need to create a work environment that fosters trust and inclusion, and ensures your employees feel valued if you want to encourage collaborative behaviours between them and improve overall team performance. Join Melissa, Holly, and JA in this new WOW session where they discuss tools for greater integration, employee onboarding, and embracing a diverse workforce. Bring your questions along for our team, and we'll help ensure you'll get some great take-aways and will be well on your way to building a strong team for your organization's employee base. Whether you are a business leader or an employee looking to improve your job skills, this new WOW session is for you. Sign up today!
Workplace Training Event: Bridging the Divide - How to Support Workers with Disabilities in Your Workplace
With Brenda Kelleher-Flight, Ph.D., Business Consultant at GDP Consulting
Thursday, March 23 at 11:00 a.m. Pacific (2:00 p.m. Eastern)
By recognizing the potential limitations that flow from specific impairments, employers and co-workers can identify the types of accommodations people with disabilities/exceptionalities require. This ensures that they can participate in an informed manner in the workplace. When managers and employees are equipped to help people with disabilities determine the options that meet their individual needs, they ensure that workers can effectively fulfill the expectations of their role. Other potential benefits include a reduction in lost work time, increased productivity, and faster assimilation of workers with disabilities into the team. Join us for this workplace training event where Brenda will address examples of activity limitations and accommodations essential for persons with chronic mobility limitations, physical and mental health conditions, cognitive impairments, learning disabilities, sensory disorders, and neurodiversity. Sign up now to reserve your spot!