Videos
Videos
BA Video Collection
Sample from the extensive array of videos on this page. All videos play from YouTube and can also be viewed directly from our YouTube Channel. Enjoy!
Note: A transcript is available for each video on its respective page, and most videos are close captioned in YouTube.
Module 1
Module 2
Module 3
Module 4
Module 5
Module 6
Module 7
Module 8
---
Optional Learning Modules Videos
---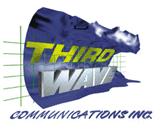 These HomeBiz TV Videos are provided courtesy of Third Wave Communications. Their generous contribution includes 39 videos each featuring a business and their unique path to success.